28.6.2003
Nachtrag - Graffiti-Dokumentation Berlin 2002 - beide Motive aus Berlin Mitte:
| | |
| --- | --- |
| | Dokument der GABBA-Kultur |
| Anti-Semitismus - Graffiti gleichen Inhalts und in derselben Handschrift tauchen an verschiedenen Orten der Stadt auf. Mit Sicherheit nachweisbar sind sie seit 1994, als für die Studie "Graffiti - ein internationaler Vergleich" weiträumige Erhebungen in Berlin durchgeführt wurden: | |

21.6.2003
Neues Web-Fotoalbum - Graffiti in Wien - Fotodokumentation am 1.5.2003 - entstanden am Weg von S-Station Handelskai zum first vienna graffiti wall am Donaukanal :
http://mitglied.lycos.de/graffitiforschung/graffiti_in_wien/index.htm

20.6.2003
Zwei Motive die uns von Herrn Alexander Susnik zur Verfügung gestellt wurden:
Ein traditionelles mural aus Sardinien (1994) und ein Werk der Sprayer-Kultur aus Berlin (2003):

19.6.2003
Aktuelles Motiv aus einer Wiener S-Bahn-Station, genaue Bedeutung unklar, drei große B, in einem Keltenkreuz die Jahreszahl 1986 bzw. 1896. Keltenkreuze findet man häufig im politisch rechten Bereich und bei extremistischen Fußballfans. Falls jemand näheres zur Bedeutung weiß, ersuchen wir um Mitteilung an das ifg: mailto:graffiti@chello.at

graffiti.netbase.org aktuell:
5.901 Dateien, 227 Ordner, 96 MB, 427.379 Zugriffe

18.6.2003
Mainstyle war 90 eine der ersten deutschen Fanzines über Writing und brachte vorwiegend Bilder aus dem Rhein/Maingebiet. Die Zeitung selbst wurde in geringer Auflage kopiert und Bilder als Farbkopien eingefügt. Nun ist sie auch online zu sehen: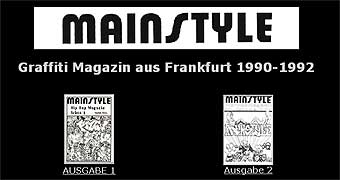 16.6.2003
OBSERVATORY-LABORATORY
EVOLUZIONI
DO THE WRITING

It is expected birth of a:

LIBRARY: Texts about writing or about related topics that stick to the point (aesthetics, anthropolgy, soci-ology, history and critic of art, story of writing and about the alphabetical forms).
ARCHIVE: Articles and material concerning writing (daily press and magazines, specialized magazines, offprints, reviews).
PHOTOVIDEOARCHIVE: Images, videos about writing (slides, photos, flyers, prints, brochure, posters, filmed documentaries, thematic movies).

It will be prepared a concrete and telemathic Net between the Evoluzioni Project Center and universitary departments, cultural associations, research groups, cultural promotion operators (from Naples and its prov-inces to all around the world countries) who want interact around the various themes of writing. Of course, writers and topics on writing will be the center of the correspondence.

They will be organized, in a specific zone, Extemporaries of sculpt-pictorical works of writers, in the real presence of the authors to whom ask questions. It is contempled a route of these works, beside the places each time arranged to this purpose.

It is expected an Observatory on forms of Urban Scenical Poetic, intending to verify, to file and study every scenical and scenographical form more or less related to the pictorical phenomenon of writing: self manage apparences of such aesthetic facts and phisical presences on every kind of urban surface, lived each day. It will be created a changeable map of such events and concrete presences in the urban scenical space, showing those series of strategical operations, set out to enrich this space of everything is a representation of oneself.

It will be estabilished an Itinerant Synergical Group exclusively to promote writing. It is expected to put in action beside high schools, universities, cultural associations, thematical meetings. They will be guaran-teed a bibliographical, photographical material, files, slides, specialized magazines, informations on web sites concerning this topic; writers for speeches and interviews, representing of related expressive forms, for theorical and exsemplifying conferences; a device and orientation service; film screenings, clips, documenta-ries, events and performances planning.

It is proposed the foundation of the collective Alephactory concerning arguments of alphabetological stud-ies. It discusses a particular attention on the alphabetical type forms, on their history, planning, projectation, creation, distortion and adaptation, exploring, in this way, an aesthetical type of writing. It is proposed an in-tegration on the evolution of alphabetical forms - in historical time and geographic places - from a wide an-thropological point of view.

At last, there are projects already in a theorization phase, like: the World Wide Writing Atlas, the Staging of Vesuviana Stations, the Urban Census of White Papers, the Plan of Writing, the History of Neapolitan Writing.


EVOLUZIONI
329.0738871 (luca)
borrielloluca@tiscali.it
347.2918458 (salvatore)
www.laboratoriodiscrittura.it/forum

15.6.2003
| | |
| --- | --- |
| | Portrait auf einer Wiener Parkbank. |

13.6.2003
Input aus Frankfurt/Main
Fotowand in der U-Bahnstation, u.a. ein älteres Graffito von der Zoomauer.
"Ich bin zu feige dir zu gestehn das all meine gedanken sich nur um dich dreh´n."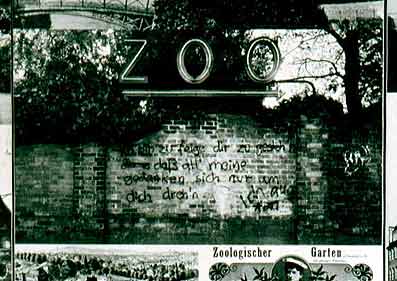 Frankfurt aktuell (2003):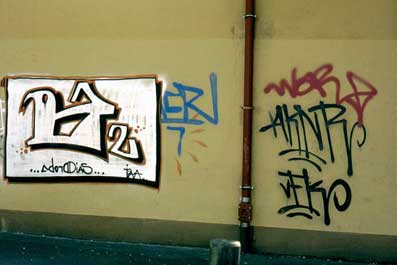 12.6.2003


11.6.2003
Historische Motive aus Frankfurt/Main:
1979 - Studenten beim Beschreiben eines Transparentes mit einer politischen Forderung,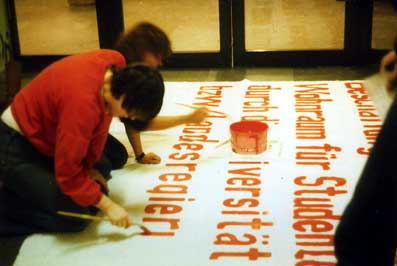 1981 - Protestgraffito anlässlich des Hungerstreiks von gefangenen Mitgliedern der RAF.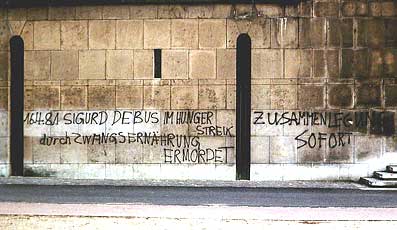 10.6.2003
Blick auf den first vienna wall sowie Characters, Messages:

Sprayer-Utensilien vor einem
Piece am first vienna wall.

Pieces vom first vienna graffiti-wall:


Den Zugang zu allen bisher veröffentlichten News-Artikeln mit kurzer Inhaltsangabe (Schlagwörter, Keywords) finden sie in der Graffiti-Enzyklopädie
Zuletzt veröffentlichte Ausgabe (Graffiti-News Nr. 62): Graffiti News, 62/2003