---
How to do a style, ha?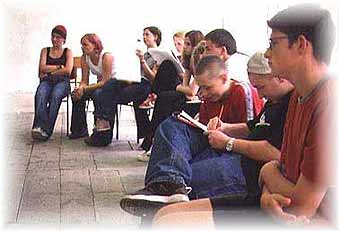 I think first step should be sketch on the paper, best a lot of sketches...
And if you choose the best one, we can start then. Of course you can start without sketch if you know what to do and you got some ideas in your head...
Before you start, try to select different colors for fill-in, background, outlines, highlights, etc

Step1, (after sketch):
Choose color different than the color of the fill-in and try to paint exactly the lines from the sketch. Don't worry if some of them will look a little bit different, you can allways correct it. I think that sketch is one of the important thing which got influence on the final look of the piece, so do it with patient and don't hurry (unless you're painting train).
Pics 1 - 3:
Step2:
Do fill-in, but the best would be if you leave the spaces for the outlines. Then you'll know where the lines should exactly be and you'll do your piece much precise and faster. Which lines? Those which you did sketch in step 1.
Pics 4 - 5:
Step3:
Do background. Anything waht you want, clean color, scenery, the sky. If you want to save your time and paint you should leave the space for the 3d or shadow or any other effect that yoy planned for the outlines.
Pics 6 - 7:
Step4:
Now the most pleasure moment: outlines.
If you've lived the spaces between fill-in it shouldn't be so hard. Of course more pieces you do better outlines comes with. After you do outlines you do the shadow or 3d effect.
Pics 9 - 10:
Step5:
Now it's time to finish your piece (why did it take so long?).
To cut your piece from the background and make your outlines more sharp you can do some highlits (Pic 11) and backline (Pic 12):
End when everything goes right your piece should be look better than mine!